SANTA VISITS THE FARM
Once again, we're expecting a very special guest at Boyd Mountain Christmas Tree Farm.  Santa dates will be Nov. 19, 20, 25, 27. Santa Claus will be joining us from the North Pole so all you children and children at heart can share your wishes with him and let him know how good you've been this year.  This will be a fabulous photo opportunity so don't forget to bring your camera!
Hours will be 9am-5pm. So, remember to plan some additional time to visit with Santa when you come to choose your perfect Christmas tree.
Our Guests Say...
"Loved the views, people and atmosphere." Lexington, NC
"Professional staff, good selection." Calabash, NC
"I liked Staying in the log cabins on a Christmas Tree Farm and taking home a tree." Winston Salem, NC
"An experience for all the senses. Nature at its best. "  Hendersonville, NC
"We enjoy the overwhelmingly friendly people, beautiful trees and nice free refreshments." Piedmont, SC
"We enjoyed the workers who helped us cut down our tree as well as the beautiful view!  This will be a new tradition." Mouton, Al
"The Hospitality tent is a nice way to finish the annual tree expedition.  Very friendly staff."  Dacula, Ga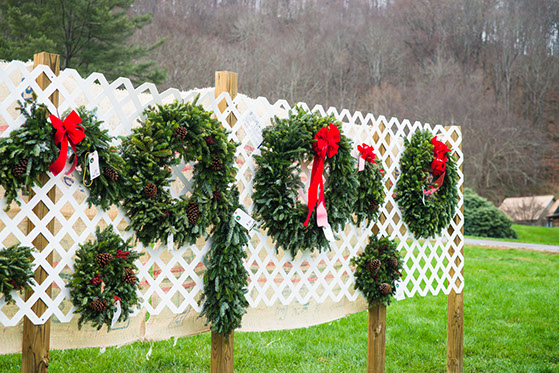 Greetings from the Farm!
OPEN DATES BOYD MOUNTAIN CHRISTMAS    
           TREE FARM CHOOSE AND CUT 2022             
Thursday Nov. 17th  9am-5pm
Friday Nov. 18th  9am-5pm 
Saturday Nov. 19th  9am-5pm (Santa)
Sunday Nov. 20th  9am-5pm (Santa)
Tuesday Nov. 22nd  9am-5pm
Wednesday Nov. 23rd  9am-5pm
Thursday Nov. 24th  9am-5pm 🦃
Friday Nov. 25th  9am-5pm (Santa)
Saturday Nov. 26th  9am-5pm (Santa)
Sunday Nov. 27th 9am-5pm (Santa)
Tuesday Nov. 29th  9am-5pm
Wednesday Nov. 30th  9am-5pm
Thursday Dec. 1st  9am-5pm
Friday Dec. 2nd  9am-5pm
Saturday Nov. 3rd  9am-5pm
Sunday Nov. 4th 9am-5pm
We have been planting more trees each year because of the tree shortage and we're trying to look down the road to take the best care of our customers. We will be very limited on our 10 to 11 foot trees this year but within the next year or so we should be good. We look forward to having you at the farm for the best Christmas tree experience.
Boyd Mountain on Weather.com
10 best Christmas Tree Farms in Country Living
MAKING UNFORGETTABLE MEMORIES IS WHAT WE'RE ALL ABOUT!!
Dear Friends and Family,
Can you believe that the Holiday Season is already upon us?  As beautiful as the various seasons are here in the mountains of WNC, it is refreshing to feel a nip in the air.  How exciting that our favorite time of year is here again.
We have been working hard and eagerly anticipate your visit to the Farm to select your perfect Fraser Fir Christmas tree. Opening Day is Friday, November 15th and we will be open Thursday, Friday, Saturday and Sunday from 9am-5pm through December 2nd. When using Google Maps or GPS to navigate to the Farm, please enter 445 Boyd Farm Road, Waynesville, NC 28785, NOT Boyd Mountain Road which will take you towards the Great Smoky Mountain National Park.
For your ease and convenience, we have added a tent stocked with fresh cut trees  from another one of our growing locations. This will be a help to those that wish to experience a Christmas Tree Farm without the hike up the hill.
As always, our hospitality tent is heated and stocked with refreshments for your enjoyment.  Hot apple cider, hot chocolate, Boyd Mountain Blend roasted coffee, spring water and holiday cookies will be waiting for you.  There are gift items available in the tent including sweatshirts, t-shirts and ball caps for children and adults, toboggans, wreath hangers and our popular watering spouts that allow you to keep your tree fresh with ease and no mess. Our favorite stocking stuffers are the memorable hand thrown pottery mugs and ornaments and embossed stainless steel water bottles.
Fresh Wreaths
Fresh wreaths are being made daily at the Farm in a variety of sizes.  Special orders can be requested with a few day's notice.  The wreaths are made by hand with fresh Fraser Fir branches on rings from 6 inches to 36 inches.  Also being created by employees of the Farm are mailbox wreaths, swags, centerpieces, roping and garland.  These items add wonderful charm and scent to any home during the Holidays and are also very thoughtful gift items that can be delivered early and don't require wrapping!  That is a bonus in my book.  We will be making the wreaths throughout the season to provide you with the freshest product possible.  Shipping boxes are available specifically designed to mail a wreath to that special someone.  Also we will offer beautiful plaid bows in addition to the traditional, waterproof, red velvet.
The Amazing Answer Stand
Many of our repeat customers use The Answer Stand tree stand and others come specifically to purchase one.  The Answer Stand is the easiest, safest and quickest way to put up your tree.  Our special tapered drilling equipment creates a hole in the base your tree that is compatible with the metal spike on the Answer Stand.  The tree can be placed on the stand in a minute by anyone and remains nice and straight throughout the Christmas season.  The bowl on the stand holds one gallon of water to help you keep your perfect tree fresh.  The Medium stand is recommended for 5'-7' trees, Large for 7'-9' trees and the Super stand can accommodate up to a 12' tree.  All the stands feature removable rebar legs for simple storage.  Ask any Farm employee for a demonstration of this great stand and remember to be certain to have your tree drilled if you already use The Answer Stand.
Things to Remember
Our Farm is conveniently located within minutes of major highways including Interstate 40.  There is paved access to our parking area.
If you are using Google Maps or GPS, please put in 445 Boyd Farm Road NOT Boyd Mountain Road as it will send you into the Cataloochee Valley of the Great Smoky Mountains National Park.
Parking attendants will be on duty to assist you and guide you to the tent and field areas.
Parking for persons with disabilities and assistance to the Christmas tree fields is available.
Portable restrooms for our guests are located in the parking area.
You are welcome to allow your pet to accompany you as you walk through the Christmas tree fields if your pal is on a leash.  We do ask that you do not bring your pet into the hospitality tent.
The trees that are available for sale this season will have a price tag on them.  Those that are not priced are being reserved for another year.
We accept cash, MasterCard and Visa or personal check with identification.
We are so excited that you will be visiting soon and are eager to make your excursion to select the perfect Christmas tree the best one ever!
We hope that you have enjoyed our Annual  Newsletter and can't wait for your arrival to the Farm.  We love to hear your stories of holiday tales and traditions and how your annual visit to Boyd Mountain to choose the perfect Fraser Fir Christmas Tree has become one of them.   We look forward to your memory making visit.
Sincerely,
David Boyd
Boyd Mountain Tree Farm