CHOOSE 'N CUT FRASER FIRS
Send us your e-mail & we will keep you informed.
OPEN DATES BOYD MOUNTAIN CHRISTMAS    
           TREE FARM CHOOSE AND CUT 2022             
Saturday, November 19th 9-5
Sunday, November 20th 9-5
Friday, November 25th 9-5
Saturday, November 26th 9-5
Sunday, November 27th 9-5
**We will be closed this year on Thanksgiving Day to spend with our families***
Please also note that our smaller trees (5 foot to 7 foot) trees will be in an area near the tent and will be pre-cut. They will be brought in from a location on the farm that is inaccessible for our customers this year. We have plenty of 8–12 foot trees that you can still cut yourself. To be fair we operate on a first come, first serve basis only.
Santa will be here on ALL the above dates! We will also have the Food Truck again this year for you to enjoy!
Choose n' Cut Christmas Trees at the Farm
Maggie Valley / Waynesville, North Carolina
The Great Smoky Mountains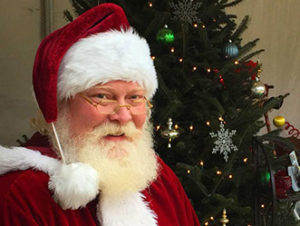 Easy paved access, lots of parking, restrooms, handicap facilities, wreaths, and gift items in our hospitality tent.
You select the tree...we cut it, bale it, and tie it on your vehicle or you can use our bow saws and cut it yourself! A wonderful family experience walking through the manicured fields and selecting your own tree! Payment forms accepted are cash, check, MasterCard, Visa.
Our first priority is quality, freshness, and customer service. We welcome you to visit the farm and see the quality for yourself.
Your dogs are welcome on the farm but need to be on a leash.  We ask that you do not bring them inside our Hospitality Tent.
[mp3j track="https://boydmountainchristmastreefarm.com/wp-content/uploads/2018/04/xmas-music.mp3" autoplay="y" vol="50"]
Growing & Harvesting Trees Helps the Environment
Did you ever think that by using a live Christmas tree in your house that you were actually helping the environment? Real trees help the environment from the time they are planted until after the holiday season when they can be recycled.
While they are growing, Christmas trees support life by absorbing carbon dioxide and other gases while giving off fresh oxygen. Every acre of Christmas trees planted gives off enough oxygen to meet the needs of 18 people. Today in America there are enough Christmas trees planted that 18 million people a day are supplied with oxygen. Also, the farms that grow Christmas trees stabilize soil, protect water supplies, and provide a refuge for wildlife while creating a nice scenic view.
Often, Christmas trees are grown on soil that will not support any other crops. And when one Christmas tree is cut down, one or two are replanted in its place. Artificial trees are made from oil-based products that use up our natural resources. They are also not recyclable and will remain in land-fills for centuries after disposal.
Real Christmas trees, on the other hand, are recyclable. The branches and trunk are biodegradable and can be made into mulch for the garden. A Christmas tree placed in the back yard will make a nice bird feeder and the birds can also use the trees branches for shelter during the winter winds. Large quantities of trees make effective barriers on beaches to prevent soil erosion. Sunk into ponds, the trees will also make an excellent refuge and feeding area for fish.
Copyright © 2019 Boyd Mountain Christmas Tree farm - Design by iMountain.net